Back Story
Straight out of the marsh pond ghettos of planet Ribbit IV comes the amphibious B.I.G., also known as Nate Frogg, but mostly known as Froggy G. Growing up in the baddest part of town, struggle and incarceration surrounded Froggy from an early age. Taking part in his first swim-by shootout as a tadpole, Froggy seemed destined for a life of crime and prison.
After a bloody gangwar with the neighbouring Toad-unit posse ended in a 5 year jail sentence, Froggy G vowed to end his gangsta ways. Instead, Froggy G started earning his keep as a beatboxing streetdancer and rapper, hoping to be picked up by a major record label. Unfortunately, his tracks titled "Pond Pimpin", "Froggin' dirty" and "Motherfrogger bounce!" didn't earn him much.
In order to make some money, and then make some mo', Froggy G became a hired gun. Combining his shoot-out experiences with lethal watery dance-moves and beatboxing techniques, Froggy G now spins and dashes across intergalactic battlefields, droppin foo's left and right with his fishgun, hoping to make some money to take his momma out of the hood.
Quotes
Theme Song Lyrics
"It's the Froggy G
Hop and jump from nook to creek
Croakin' rhymes from A to Z
It's the Froggy G
Every toad would like to be
Such a playa, can't you see?"
Voice actor: Anthony Haynes
Taunts
Help
Attack
Defend
Teleporting
Purchase
Chosen
Drop Pod In
Killing Blow
Killing Spree
Being Hit
On Death
Nauts In-Game Look

Skin Information
Grandmaster Splash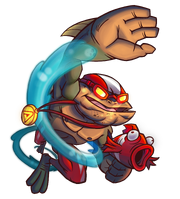 "Ready? Set! GO!!! 16 times Space Olympic gold medalist Froggy G is here to farm some gold with perfect technique and a brutal training schedule. Add to that a pair of supertight swimming trunks and we've got a clear winner. The Grandmaster Splash skin!" - Official Steam Store Description
This skin gives Froggy G dark green skin and fish fins. He also wears a gold medal with the Awesomenauts emblem on it, along with new swimming gear. The Bolt .45 Fish-gun also gains a new color scheme, with stripes instead of polka dots.
The Twister Tweeters explosion effect is changed to a "ring" effect.
Pimpy G
"Them superfly leather suede jeans. That's Pimpin'! That black belt of bling. That's Pimpin'! Them "eyes on the money" glasses. That's Pimpin'! That gold 'n diamond "smack you fools" cane. That's Pimpin'! Pimpy G is pimpin' and you know it." - Official Steam Store Description
This skin gives Froggy G a striped hat, a new clock necklace, a coat with polka-dotted fur, star-shaped tinted glasses and a pair of white jeans. The Bolt .45 Fish-gun is completely golden, with a cane below it, and gems for eyes.
New gem particle effects are added to the Tornado Move.
Digital G
"He's rockin' them cybersonic beats. Next level digital sound. Bringing that techno flow, that future yo! Bringing swagger to the elite mercenary force known as The Killer Koalas! It's Digital G, foo!" - Official Steam Store Description
This skin was awarded to all backers of the Awesomenauts: Starstorm Expansion Kickstarter Campaign, and is also available on the Steam Store.
In this skin, Froggy G has futuristic armor, complete with a visor. His water canister also looks futuristic and he has water cartridges strapped on his armor. Froggy doesn't have hair on this skin. The fish gun has a visor too.
Awesomenaut Showcase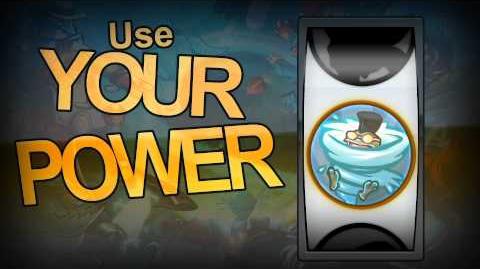 Ad blocker interference detected!
Wikia is a free-to-use site that makes money from advertising. We have a modified experience for viewers using ad blockers

Wikia is not accessible if you've made further modifications. Remove the custom ad blocker rule(s) and the page will load as expected.