Back Story
Raelynn loves big guns. After highschool she went straight into the E.L.F. army to fight against the invading robots, just before the first AI war.
She was trained by the best and excelled in long range weaponary. Within a year she was given the honor of joining an elite squad called the SkyHawks, where she met the love of her life: her Pulserifle "Cuddles".
For years they did covert missions together as a team to disrupt robot production and steal robot technologies. They were feared by all robots (well...the ones with emo-chips).
Until that one deep space mission to AI station 404 in the year 3009, where she ran into a robot ambush, and "Cuddles" was brutally taken away from her. Raelynn was put into cryostasis. Decades passed until a small mercenary team found her hidden on the planet. There she was rejoined with "Cuddles" and many warm 'hugs' were given that day to all robots on 404.
Quotes
Voice actor: Somayeh Foroushani
Taunts
Help
Attack
Defend
Teleporting
Purchase
Chosen
Drop Pod In
Killing Blow
Killing Spree
Being Hit
On Death
Using Snipe
Using Timerift
Nauts In-Game Look


Skin Information
Ravishing Raelynn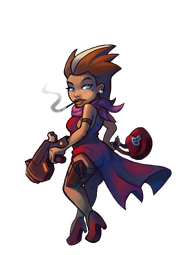 "Who needs practical body armor anyway when you're carrying a retractable sniper cannon? You might as well dress up and look fabulous as you lay down a hail of sniper fire upon your enemies!" - Official Steam Store description.
This Raelynn skin replaces her clothes and visor with an elegant party dress, high heels, and a holster strapped to her thigh. She also uses lipstick, make-up, and a scarf around her neck.
There is also a beauty mark close to her eye.
Bionic Raelynn
"Raelynn has been recruited by a supersecret bionic spec ops team. The new and improved Bionic Raelynn has augmented her already impressive battlefield performance with bionics, cybernetics, a worn cloak and shiny lights." - Official Steam Store description.
Bionic Raelynn adds a "greyish" hue to her natural armor coloration and covers her arms as well instead of having them exposed like in the default look. Her cape is team-colored and she wears a helmet and a hood.
New digital hexagon particle effects are added to Snipe and Timerift.
Awesomenaut Showcase
Trivia
Ad blocker interference detected!
Wikia is a free-to-use site that makes money from advertising. We have a modified experience for viewers using ad blockers

Wikia is not accessible if you've made further modifications. Remove the custom ad blocker rule(s) and the page will load as expected.