Back Story
At the heart of the milky way lies the Bovinion system, ruled by a semi intelligent cow-like species. Although technologically advanced to an acceptable level, these Bovinions have maintained a tribal form of society for several thousands of years. Until recent years, an age-old custom in this society was to scare young Bovinion calves with bogeyman stories about a scary cowboy. Naughty Bovinion calves would, as the story went, be caught by this cowboy's unrelenting lasso.
Recently, a wealthy Bovinion visionary opened up a park where visitors would come to see a genetically re-engineered cowboy in action. But disaster struck and the cowboy escaped his cage. Before the Bovinions could react the cowboy had wrangled the entire park staff. Terror shook the Bovinion civilization as the cowboy started to wrangle every single Bovinion on the planet! Suddenly the Bovinions found themselves out of their cities and wrangled into herds on green meadows by the whisky drinking, bucket spitting, yeeehaawing horror.
Once the entire Bovinion civilization had been wrangled, the cowboy, naming himself Sheriff Lonestar, rode a rocket ship into the sunset, his job complete. Now Sheriff Lonestar fights as a mercenary in the robot wars, combining his awesome cowboy-powers with high tech weaponry to earn some solar to spend on whisky and cigars.
Quotes
Voice actor: Anthony Haynes
Taunts
Help
Attack
Defend
Teleporting
Purchase
Chosen
Drop pod in
Killing Blow
Killing Spree
On Death
Nauts In-Game Look

Skin Information
Officer Lonestar
"Pull over buster! Freeze! The strong arm of the law has arrived and is gonna give you a ticket for looking horribly out of style in that old Cowboy attire! Your enemies will respect your authority if you upgrade your old Sheriff outfit with the new Officer Lonestar skin, and if they don't they'll be looking at four to five years in an intergalactic state penitentiary." - Official Steam Store Description

Lonestar wears the attire of a police officer, having his white hat replaced with a police hat, which has the Awesomenauts emblem on it. He also wears a pair of Sunglasses, a shirt, and his kneepads are replaced with brown jeans and plain boots.

The Holo-Bull plays Siren sounds when it is summoned.
Private Mels
Mels is a cool kid that visited the Ronimo studio some months ago as part of a day that was organized for him by the Make-A-Wish Foundation. The Make-A-Wish Foundations is a non-profit organisation that grants wishes to children with life-threatening medical conditions, such as Mels. One of Mels' wishes was to experience and take part in the development process of a game, and we invited him to be part of Awesomenauts. We spent the day with Mels showing him how we make games and we also let him design a skin for his favorite character. This skin is the result of that day! We hope you like it Mels ;)
All the revenue we receive from this skin between now and the end of the year will be donated to the Make-A-Wish Foundation, to help them grant more wishes to kids. - Official Steam Store description
Awesomenaut Showcase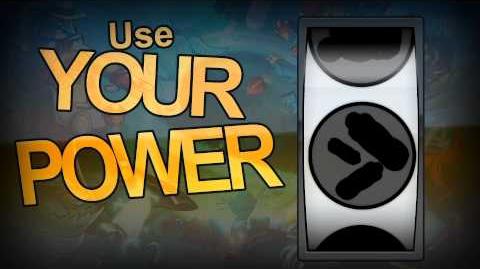 Ad blocker interference detected!
Wikia is a free-to-use site that makes money from advertising. We have a modified experience for viewers using ad blockers

Wikia is not accessible if you've made further modifications. Remove the custom ad blocker rule(s) and the page will load as expected.