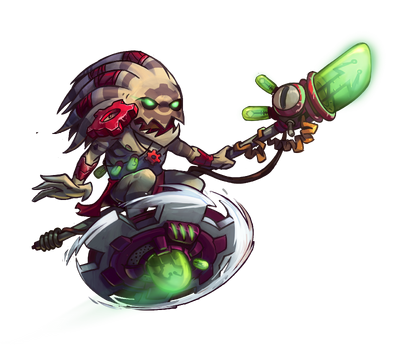 Skree, the powerful but superstitious techno shaman, found himself all alone on an abandoned space station: the Starstorm, filled with mighty looking robots. Thinking the disabled robots were gods, he spent his time collecting different parts of the battle station to create shrines for them. While connecting robot parts and machine scraps to form huge robotic statues and altars, he accidentally activated the mainframe of the Starstorm, re-powering the entire battle station! Frightened by his now activated robotic gods, Skree decided he didn't want to worship them anymore. What better way to travel the universe in search of new spirit-gods, than to join the Awesomenauts?
When Skree positions his board on the ground, he becomes invisible for several seconds. Then the board rushes straight back to him, damaging everything in its way.
Class: Assassin
Information
Skree is set to be released as the 4th starstorm 'naut, after Penny Fox, with the estimated release date set at Q3, 2014.
Ad blocker interference detected!
Wikia is a free-to-use site that makes money from advertising. We have a modified experience for viewers using ad blockers

Wikia is not accessible if you've made further modifications. Remove the custom ad blocker rule(s) and the page will load as expected.